Who are We?
In today's world, a child and a parent rarely have time together; to laugh, to talk, to become friends, and to learn about each other. But this was realized long ago in the 1920's by Harold Keltner, a St. Louis YMCA director. He started a father-son program with help from an Ojibway Indian hunting guide named Joe Friday. The program was based on Native American qualities of culture and life; Dignity, Patience, Endurance, Spirituality, Feelings for the Earth, and Concern for the Family. Thus was created the first Y-Indian Guide program.
A new direction in parent-child programming is beginning at the YMCA. This life-changing program is an enhanced and updated version of the Indian Guides and Princesses program that has been practiced for the last 77 years. The time-honored parent-child program has helped us celebrate family, nature, community, and plain old-fashioned fun that will continue in our new journey.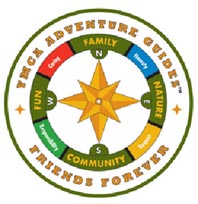 With the symbolic compass of its new logo, YMCA Adventure Guides offers new directions to rituals, routines, group meetings and activities, outings and overnight camping. The program is structured so that one parent spends time with his or her 5-to-12 year-old child, building a relationship that is sure to make them "friends forever".
A New Direction:
Life is a journey. The journey anticipates challenges and choices. Along the way are significant guides. The journey begins within the sacred circle of family. Parents serve as primary guides to help children navigate known obstacles. Parents entrust their children to other significant guides. It is an expedition for the ages. In the YMCA, we believe that if we build strong communities that nurture and strengthen families, then children will start early and finish strong. This has been our legacy, and now it will be imbedded in a new direction: YMCA Adventure Guides.
Two mottoes are given to us from the traditions of the past: Pals Forever and Friends Always. We go forward with a new motto uniting them: Friends Forever.